The 2021 Subaru Love Promise Customer and Community Commitment Award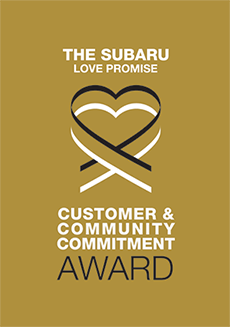 We've been nationally recognized for our dedication to our customers, our community, and the Subaru Love Promise.
We're honored to receive the 2021 Subaru Love Promise Customer and Community Commitment Award. This award nationally recognizes elite Subaru retailers who provide an exceptional customer experience at every interaction with Subaru. These retailers have also demonstrated an outstanding commitment to supporting passions and causes in their local communities in important areas such as the environment, community, health, education, and pets.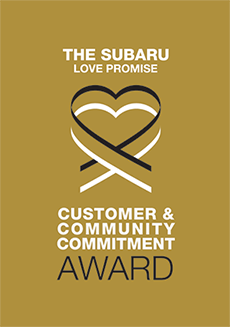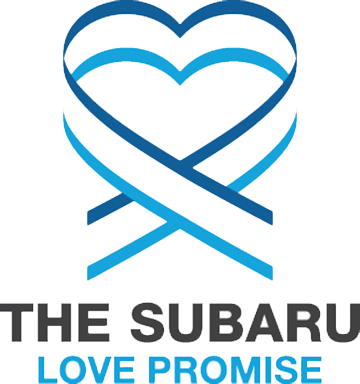 What is the Subaru Love Promise?
Subaru and our retailers believe in making the world a better place and the Subaru Love Promise is our vision of respecting all people. This is our commitment to show love and respect to our customers and to work to make a positive impact in the world.
How is Gerald Jones Subaru dedicated locally to the Love Promise?
Our Love Promise can be seen in various partnerships with local charities and non-profits. We're grateful for the opportunity, not only to be a part of our community, but to serve it as well.
Columbia County Animal Shelter, ASPCA, Columbia County Humane Society
Savannah Riverkeeper, Augusta Canal National Heritage Area
Columbia County Library, Baker Place Elementary, Columbia Middle School
Augusta Bridge Ministry, Columbia County Community Connections , Golden Harvest Food Bank, Knitting Our Hearts Together
Shepeard Community Blood Center, Georgia Cancer Center
Love Promise Stories from Gerald Jones Subaru
Subaru and Gerald Jones Subaru believe in making a positive impact on the communities in which we live and work. We uphold that belief through our Love Promise Community Commitment. Every month, we select inspiring stories from customers and partners from around our area who strive to support our collective commitment and feature them here
Grateful - Kellie C
We are so overwhelmed by the generosity of the Gerald Jones Subaru team, and can not thank them enough for choosing us for the share the love event. Because of this gift we will serve more homeless and hurting people than ever before. Together, we are making a difference in this city. Thank you for your support. We love you guys.
---
Together We Can Make a Difference - Kellie C
We are so thankful to have had Kristen, Ryan, and Dustin from Gerald Jones Subaru volunteer at the Augusta Dream Center. In just two hours we were able to distribute over 250 articles of clothing to people who might not otherwise have proper clothing. Thank you for your commitment to making a difference in our city!
---
Serve Day at The Augusta Dream Center - Kellie C
Charles and Kristen from Gerald Jones Subaru are awesome! They went above and beyond to serve the community by helping them find much-needed clothing items. Many of the people we serve are homeless or they are struggling to make ends meet and getting new clothing is not something they can afford. The clothes closet provides a boutique-like shopping experience for our guests at no cost. Charles and Kristen not only assisted with sorting and organizing clothing, but they provided a personal shopping experience to everyone who was in need.
---
Social Distancing for Share the Love! - Julianna S
It's been another great year with Gerald Jones Subaru and the Augusta Canal National Heritage Area. Even with the new lifestyle of social distancing and face masks; this "new real" didn't stop us from finding a way to celebrate our "Share the Love" partnership for the second year in a row! Social media has become a HUGE tool for everyone in this time of COVID-19 and we took advantage of that. Gerald Jones Subaru and the Augusta Canal met on Instagram live for the check presentation back in May! A little background about our partnership: Gerald Jones Subaru has been a community partner with us since 2016. We combined our missions for the 100th anniversary of the National Park Service with the #FindYourPark Festival. This was the forerunner to a great annual event that we've renamed #CanalFEST with Gerald Jones Subaru as our Presenting Sponsor. As the "Share the Love" Hometown Charity, this past November and December, with each car purchased, Subaru donated $250 and Gerald Jones Subaru donated an additional $50 per vehicle to the Augusta Canal. As a result, the community and Gerald Jones Subaru raised over $8,000 for the Augusta Canal. A percentage of the money raised will be combined with a grant from the CSRA Community Foundation in hopes of bringing all 5th graders in Richmond County for a field trip this fall. We did this same project last year and it was a great success! In 2019, the canal used $5,252 of the "Share the Love" funds to bring over 1,500 5th grade students on a field trip. These trips included a tour of the Discovery Center and taking a Petersburg boat ride. Although CanalFEST has been postponed this year, due to the new COVID-19 social distancing regulations, we hope to bring back Gerald Jones Subaru as Presenting Sponsor in 2021. The canal also participated in Subaru's Terecycle recycling program. We had the entire Enterprise Mill building collecting K-cups to recycle. These were then sent back to Subaru to build environmentally friendly trail furniture. As you can see, this partnership with Gerald Jones Subaru has proven to be a great success in helping our community! The Augusta Canal hopes it continues for many years to come!
---
Subaru Delivers Meals on Wheels in Augusta - Stacy R
Thank you Gerald Jones Subaru and Kristen McDowell for your commitment to our local Meals on Wheels program! Kristen joined volunteer Allison Spensley in a Subaru Forester to deliver meals to home bound seniors. Subaru and Meals on Wheels America have a great partnership at the national level, and now we are so fortunate to have Gerald Jones Subaru partnering with our local Meals on Wheels program and sharing the love right here in our community.
---
Thank you from Project Linus! - Christine N
A great big shout out and thank you for Gerald Jones Subaru for helping the Augusta area chapter of Project Linus deliver blankets to children in need!!! The Project Linus mission is to provide security through blankets, but those blankets take up a lot of room in car. Twice this year Gerald Jones Subaru provided transportation and extra hands to help deliver 290 blankets to the Augusta Dream Center. Your caring and support for our community helped so many children. Thank you so very much! Christine N, Project Linus Coordinator - serving Burke, Columbia, Jefferson, Lincoln, McDuffie and Richmond Counties
---
Juicy Read at Lamar-Milledge Elementary - Alexandria D
Oh what a wonderful time we had with Subaru's team. Mr. Charles Beasley, Subaru's General Manager came and read "What do they do with all that Poo?" By Jane Kurtz to 1st through 3rd grade while they drank juice. The kids absolutely love it. During his visit he stopped by the cafeteria where our 5th graders were finishing up their lunch. He had them on their feet and chanting. They were so excited and motivated when they left. We want him to come back. Each student were given inspirational book marks that they can use when reading. Subaru also donated 150 books to Lamar-Milledge media center. These books are aligned with our science curriculum. We are so grateful and we welcome you anytime. Thanks Subaru! https://www.wfxg.com/2019/10/09/gerald-jones-subaru-donates-books-local-elementary-school/
---
Gerald Jones Subaru LOVES Retired Greyhounds! - Susan C
Thank You Gerald Jones Subaru and Kristen McDowell for hosting today's Meet and Greet for Greyhound Crossroads, an award winning retired racing Greyhound dog adoption service! We so enjoyed bringing our own retired racers into your gorgeous Subaru showroom for treats and love! And, thank you for the tons of pizza you provided for us! You helped us to bring the story of healthy happy racing Greyhounds, now ready for their own homes, to Augusta and the rest of the CSRA. Your kind gifts of dog food, toys and other donations help our volunteer group to meet our Greyhound Crossroads goal of "every dog in the right home, and every home with the right support." We all felt Gerald Jones Subaru love today! Thank You!!! If you're interested in knowing more about Greyhounds and our adoption service, check us out online at www.GreyhoundCrossroads.com. smiles, Susan Colflesh, CSRA Representative, Greyhound Crossroads
---
Make a Dog's Day - Andy A
Subaru is proud to establish the first-ever National Make A Dog's Day October 22nd. As part of Subaru Loves Pets month, we're inviting all dog lovers to do something extra special for their furry best friends. Plus, Subaru will be focusing our efforts on helping the hardest-to-adopt shelter Dogs –those with special needs-find homes. Get ready to fall in love withThe Underdogs. #MakeADogsDay Meet Gabi! Gabi has been at the Humane Society of NWGA (Northwest Georgia) for seven years. If you asked the volunteers to pick their favorite animal at the shelter, Gabi would win hands down. She does not do well with dogs or cats so must be the only animal in an adult only family. She loves people and will bond very quickly to you. Gabi would make someone a great companion. She is waiting patiently for her forever home. If you have room in your heart and your home for this sweet girl then please fill out an adoption application, highlight and right click this link: https://hsnwga.org/adoption/application-for-adoption/?fbclid=IwAR2Ie18p6U3ryKi-niIuIZFTd-waD98xrySl7IJmiRBXE239WP7dpODubiU #MakeADogsDay #SubaruLovesPets #TheUnderdogs
---
Subaru Loves Dream Academy - Fancy P
Dream Academy is a non-profit after-school program that serves 40 kids from Euchee Creek Elementary School and North Harlem Elementary School. When Gerald Jones Subaru heard that we were in desperate need of snack foods for our after-school program, they showed up and showed out! Kristen McDowell spent an afternoon loving on our kids and getting to know them personally and genuinely took an interest in them! Then the icing on the cake was when she let them sit in the Subaru Outback! I don't think there are any words to express their excitement of seeing that beautiful shiny new car! Gerald Jones Subaru has an uncanny ability to make you feel like you are a part of their family and they never hesitate to meet a need when they hear of one! They honestly exemplify everything it means to be community driven with a spirit to give back! Our kids are so excited that they can now form a relationship with GJ Subaru and can't wait to invite them to their Dream Academy Restaurant!
---